---
System Overview
For more specific, up-to-date information about Blue Origin and the BE-4 engine, I'd recommend heading over to the
Blue Origin website.
But for a brief contextual overview, the diagram below identifies many of the major components that make up the BE-4 engine.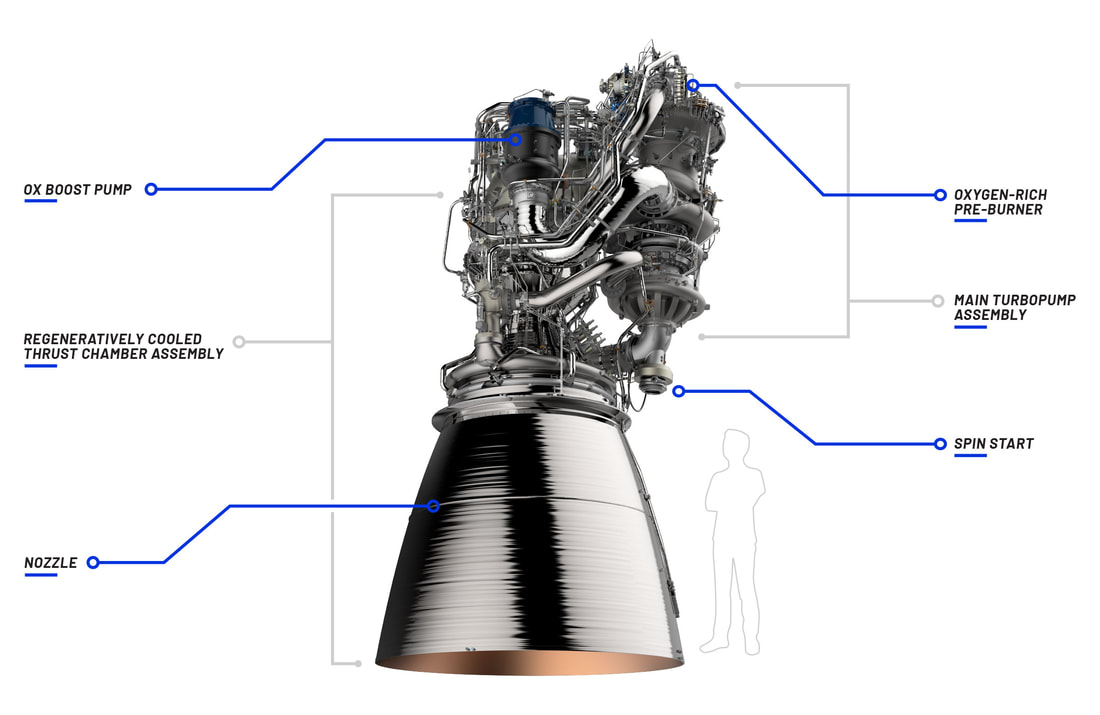 My Role
For much of my time at Blue Origin, I've worked as an Systems Design Engineer for the BE-4 program. The engine systems design team performs two crucial tasks: it configures the top level engine design and it designs all of the connecting parts in the engine. These connecting parts include all of the
ancillary systems,
ducts, secondary structure, instrumentation, and assorted tubing. For the BE-4, these parts are approximately 80% of the total engine part count. In this capacity, my daily work has involved:
Detailed Design and Drafting
Design/Drafting reviews and oversight
BOM Management
Structural analysis and FEA
​Large Assembly Management
Configuration Data Management
Testing and Verification plan writing
While on this team, I have owned many different projects and components, including:
All high pressure and low pressure propellant ducts
All flexural ducts and flex hoses
All interfaces with vehicle customers, both internal and external
The vast majority of all ancillary systems, including:

Hydraulic supply and return
Pneumatic supply for purge and actuation
Propellant repressurization
Main pump hydrostatic bearing supply and return
While in this capacity, I have at various points owned more components than any other engineer in the company, and in 2018 set the company record for most drawings released in a single calendar year.
---
Advanced Development Programs: Space Vehicle
Overview
The Space Vehicle program is Blue Origin's first foray into human orbital spaceflight. It's still somewhat secretive, so details are very limited. The critical, publicly-accessible information is:
It will fly on Blue Origin's New Glenn Booster
It will carry some number of human passengers to orbit
My Role
I act as the primary propulsion engineer on this project, and in this capacity I work to define the requirements, architecture, and detailed design of the propulsion system. The propulsion system encompasses:
Attitude control
Orbital maneuvering
Launch abort/escape
My responsibilities in this capacity are broad and varied. They include much of the above responsibilities, as well as:
Architecture/propulsion trade studies
Cost analyses
Operations analyses
---